By Andrey_Popov / Shutterstock.com
As more of the population ages, more and more people find themselves caring for aging parents who are suffering from Alzheimer's and memory loss. Not only does caring for dementia patients at home keep them comfortable, it's often more affordable for families as well. However, caring for a patient with dementia at home is a big commitment and should not be undertaken lightly. Discover how their dementia will progress and then learn our top 10 tips for caring for loved ones with dementia at home.
Shop Our Adaptive Clothing Selection
Understanding Alzheimer's
If you choose to care for a loved one with dementia at home, then you first need to understand what Alzheimer's is and how it will progress. Early stage Alzheimer's is quite mild and, in many cases, your loved one will be able to continue living on their own. They may forget recent events, have difficulty with numbers or trouble making a grocery list and struggle to plan events or maintain a calendar.
In middle stage (or moderate) Alzheimer's, the symptoms become more pronounced. Memory loss and the accompanying confusion increases. Your loved one may have trouble with everyday tasks, such as paying bills, getting dressed or attending to personal hygiene. This is why many patients begin needing care at this stage. They may also have outbursts that involve cursing, kicking and/or screaming. Episodes where they become restless and wander around will become more common.
In severe or late stage Alzheimer's, people need 24/7 around the clock care. They may have trouble sitting up or walking without assistance, as well as trouble eating or swallowing. You may notice major changes in your loved one's personality.
By fizkes / Shutterstock.com
Buy Women's Adaptive Clothing for Your Loved One
Caring for a Patient with Dementia at Home
Here are our top 10 tips for caring for a parent with dementia at home:
Inspect your home for possible hazards such as rugs that can be tripped on or tools that can be misused. Make sure all of these items are securely stored away so that your loved one cannot access them.
Pay special attention to appliances in the kitchen — in particular, the stove. Try taking off the knobs or installing appliances that shut off automatically to prevent them from turning on the stove while you aren't there. Store small appliances such as toasters and food processors far out of reach.
Keep bathroom cleaners and chemicals locked away so that your loved one cannot get to it. Add grab bars and sticky mats to prevent falls. If you don't already have a walk-in tub or shower, then consider installing one.
Regularly inspect your home's fire extinguishers, smoke detectors and carbon monoxide detectors to ensure that they are all functioning properly.
Keep a list of emergency contacts posted somewhere easy to access in case of an accident or emergency. Continually consult with your loved one's physicians as their disease progresses and their care needs continue to evolve.
Make sure that rooms and hallways are well-lit. Install nightlights so that your loved one will not trip if they get up in the middle of the night.
If you have other people living with you, then discuss care of your loved one with them and explain what changes you all will need to make in order to keep your loved one safe. Everyone in the house needs to be on board with the changes required for taking care of a patient with dementia at home.
Keep the rest of your family up-to-date with how your loved one is doing. Consider establishing a weekly group check-in so that way you don't have multiple individuals pinging you throughout the week.
Let other family members get involved in caring for your loved one. Even primary caregivers need time off to themselves, so let other family members that you trust watch your loved one, even if it's only for short stints of time.
Consider bringing in outside help as your loved one's condition progresses. This allows you to keep them comfortable in a private home while still getting them the expert care that they need.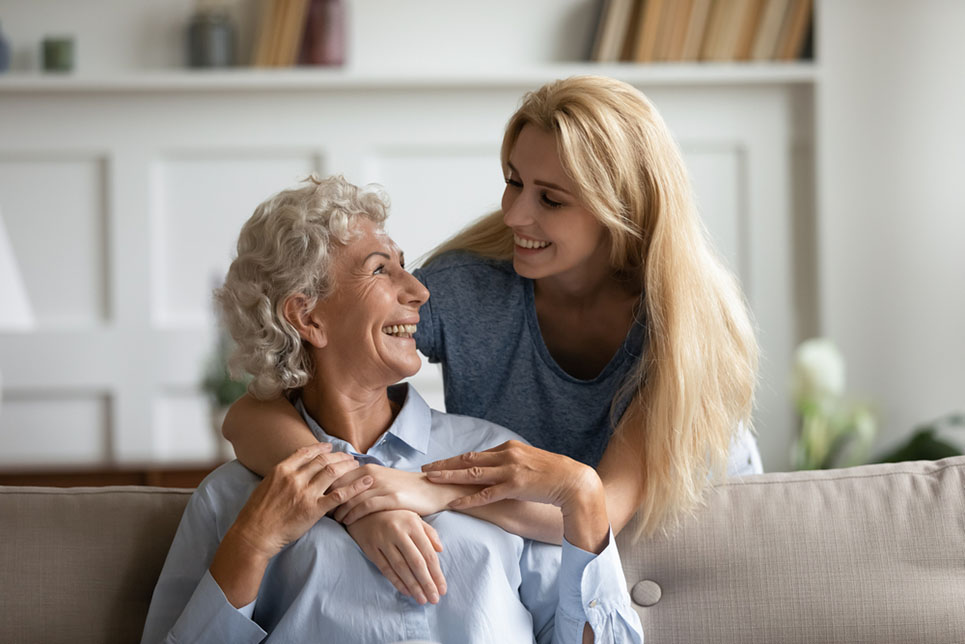 By fizkes / Shutterstock.com
Caring for a loved one with dementia requires rethinking many aspects of life that you may have previously taken for granted. For instance, one major obstacle for those with dementia is getting dressed. Adaptive clothing, such as that sold by Silverts, can make it easier for early stage dementia patients to continue dressing themselves and for loved ones to dress later stage dementia patients as well. Shop our selection of men's and women's adaptive clothing, including men's elastic waist pants, to find new wardrobe solutions for your loved one.