Getting surgery done is a stressful decision despite the positive outcomes it can bring. For seniors, it is even more difficult because of slow healing and increased risk of complications. Post-operative care for seniors is an extremely important step for a successful and healthy recovery. It is not easy to change a patient's clothes after they have had an arm surgery, but there are dressing solutions. If a patient is equipped with the right post surgery clothing, the post operative journey can become easier or more manageable.
How is medical patient clothing helpful?
When a patient is discharged from the hospital, post surgery care at home can become an intimidating task for family caregivers. Caregivers have to perform repetitive tasks of changing a patient's clothes and it becomes even more difficult with traditional clothing. There is a range of post operative clothing available that will help the caregiver dress or undress the person who is recovering from an arm or shoulder surgery. After surgery clothing also helps the caregiver clean the incisions and wounds without having to undress the patient every time.
Introducing The Jacki: Post-operative Garment for Women
Jacki® Post Surgical Garment was designed for women of all ages with their dignity in mind and to facilitate their recovery. With Jacki, patients are able to dress themselves or be dressed with ease. Easy Touch closure sleeves completely open up making dressing and undressing a less painful process.
This recovery top features hidden pockets designed for ice packs, post-surgical drains or medical pumps & packs. The removable top pockets are for breast inserts and ice packs if needed. The bottom, all-around pocketing secures multiple post-surgical drains and various medical pumps and packs. Included are breast form inserts that are ideal for breast cancer patients going through mastectomy recovery. The Jacki® garment, with its incognito style, provides a high functioning jacket which offers independence, warmth and dignity to help patients feel more comfortable.
Designed for women of all ages who are looking for breast cancer clothing or breast cancer apparel, Jacki® is perfect for Cancer patients who are going through Mastectomy recovery to make post-operative procedures easier. Post-op and cancer patients in recovery can find apparel solutions at all stages of cancer recovery.
How Does Jacki® Help?
Patient Designed with your Dignity in mind for Post-op rotator cuff and other shoulder surgeries
Perfect Recovery Shirt to leave the hospital in
Gives you privacy and simplifies your life
Hidden pockets for post-surgical drains and other medical pumps and packs
Easy Access Sleeves that completely open and allows for One-Handed Dressing and easy access to IV lines
Button at shoulder to drop down for easy port-a-cath access
Attractive and comfortable garment to wear at home, errands, daily living, and sleepwear
Great gift for breast cancer patients
Comfort & Freedom – improved post-surgical management of drainage bags allowing wearer to resume activities of daily living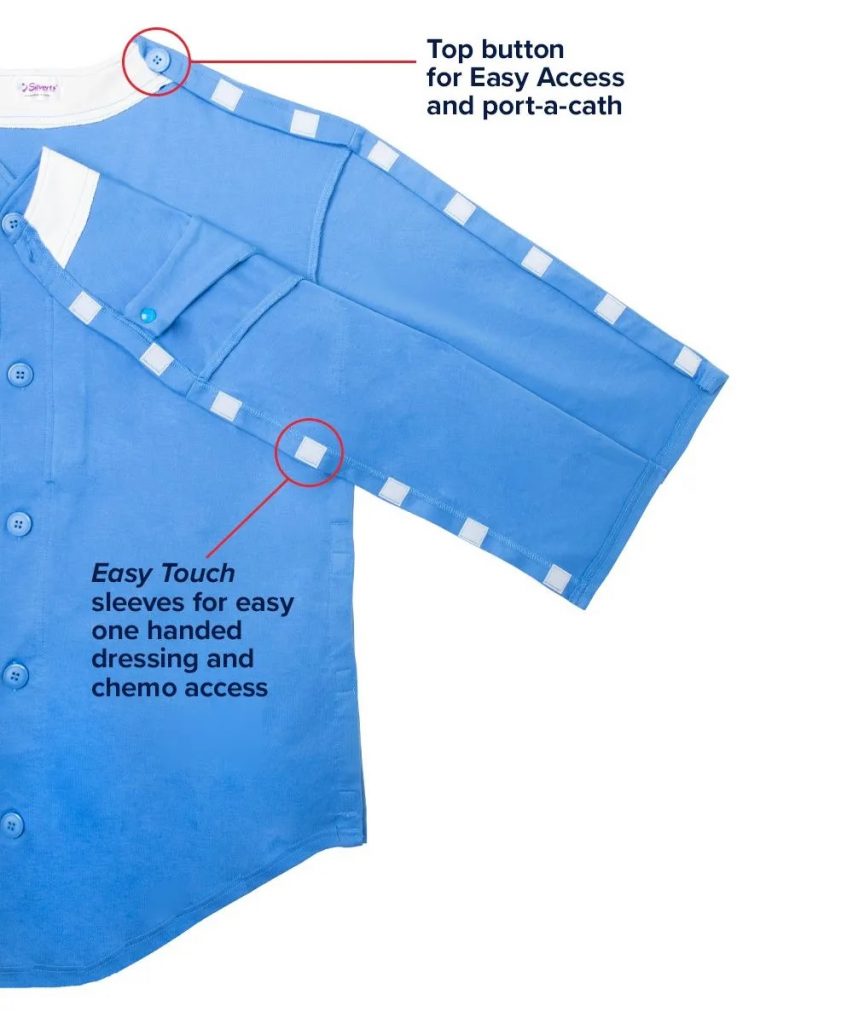 Reduces the need for painful arm lifting after surgery
How is Jacki® better than the traditional hospital gown?
Traditional Johnny gowns are uncomfortable and revealing. As a Cancer patient, Cathy McGrath designed an alternative to traditional hospital gowns, also known as johnny gowns, while helping her children cope with her own mastectomy.
Are you looking for post-operative recovery shirts?
You no longer need to use safety pins to hold your hospital gown together. Jacki® is a breast cancer clothing that provides the privacy and coverage you need. Surgery recovery clothing should be comfortable and hassle-free. No one wants to feel like a patient, you want to feel and look normal every day while overcoming daily struggles associated with surgery recovery. Do you know anyone who is undergoing recovery after mastectomy? Jacki is a recovery product for cancer patients that can prove to be extremely helpful. This mastectomy wear can also be a great gift idea for women with cancer.
Make Jacki® a part of the cancer care package or care plan to give your loved ones a solution for the challenges they are facing. If you are looking for gifts for cancer patients, getting a Jacki will help make their life easier.
Jacki® is beneficial for other cancer patients who are looking for cancer clothing for their recovery process. This mastectomy recovery shirt has easy access points so nurses can do their daily tasks without making the patient go through difficult and painful movements.
The Jacki® garment, with its incognito style, provides a high functioning jacket which offers independence, warmth, and dignity to help patients feel more comfortable.
Quick Facts:
The Jacki® recovery jacket is perfect for holding multiple post-surgical drains.
Its casual, incognito style has easy-touch sleeves for one-handed dressing and super soft materials for tender post-surgical skin.
Interior all-around pocketing secures the drains and helps alleviate the pain from the weight of the drains pulling from the surgical site.
The higher inside pocketing in the back can also hold other medical pumps and medical packs.
The breast pocketing can be removed at night for a perfect sleep.
Did you know?
It was named the 'Jacki®' along the lines of what if Jackie "O" had to endure a mastectomy.
The original Jacki® has helped over 25,000 women recover from surgery a little easier and most wear the Jacki® throughout chemotherapy and radiation, physical therapy, doctor's appointments, and everyday errands.